HOTLINE: 0932 216 377
(028) 5431 7034 - (028) 5431 7134

Hyundae Bidet GDB-1000
SKU: GDB-1000
Description
Product information:
Sanitary ware - Hyundae Bidet GDB-1000 - using hot - cold water system
Equipment for specialized posterior cleaning
Non - electric, safely when used
The simple, intelligent design of a rotary button controls 1 nozzle.
Simple to use, suitable for all consumers.
Can install itself without taking much time
Easy cleaning
Suitable for most types of toilets available at home (TOTO, INAX, COTTO, Caesar ...)
Product specifications:
| | |
| --- | --- |
| Made in | Viet Nam ( 100% Korea Technology ) |
| Colour | White |
| Material | ABS orginal plastic |
| Size | 46,6x25x20 (cm) |
| Weight | 850 (gram) |


Product characteristics:

Easy installation (You can install it yourself)
Special equipment does not use electricity
Saving toilet paper
Convenient to clean the equipment with water
Convenient with automatic nozzle washing mode
Using

hot

-

cold

water system
Installation to the WC is available
Simple when adjusting the water pressure
Less damage
Bring refreshment after use

Products include:
– Bidet GDB-1000 equipment
- T - Adapter
- Water pipe
- Nozzle
- Instruction and Warranty paper
Installation instructions: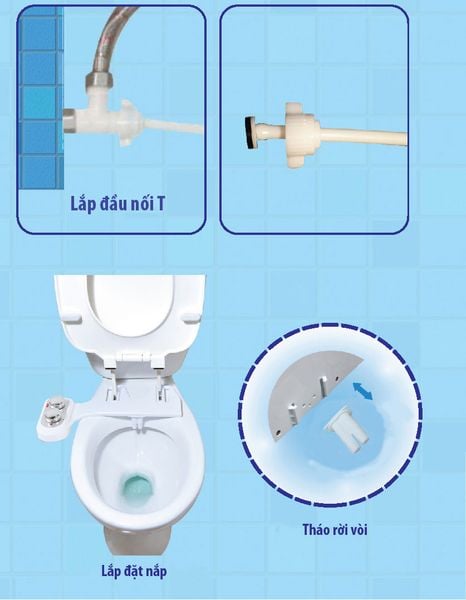 1- Order of assembly.
Remove the cover of the toilet seat separately.Remove the fixed screw of the toilet lid separately.
2- Remove the water link hose available.
First turn the water control valve again.
Remove large screws shaped 6 corners below the toilet water storage box and small screws shape 6 right corner water adjustment valve of 2 connectors.
Eliminate iron water pipes in a way that draws from top to bottom.

3- Removing iron water pipes replace by plastic pipes, T - connecting pipe, high pressure pipes and assembly in order.
4- Put the main device on the tolet and fix it.
5- Using screws to connect the ends of pipes and screws to tighten together.